Last month I wrote about how rod licence money helps to protect and improve fisheries. Since then, I have been talking with Simon Ward, one of our local fisheries specialists, to find out about our work in the Midlands.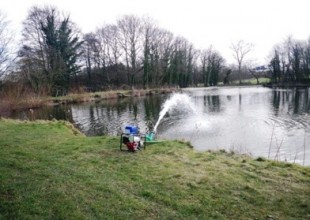 Our top priority is responding quickly to fish in distress. Simon gave me a recent example where a fast response made a big difference.
"Our local team helped out at Slacks Pond in Rotherham, when Sheffield Piscatorial Angling Club reported fish in distress. Our local officer quickly used hydrogen peroxide pumps to stabilise the water quality. Although some fish were lost, it could have been far worse had it not been reported and responded to so quickly."
Simon explained that tackling illegal fishing is another priority such as our 'Operation Stone' which recently targeted illegal fishing hotspots. Our officers challenged people fishing illegally on the River Severn, arresting two of them. With the help of  BBC Midlands Today we promoted the work with our simple but direct message if you catch fish illegally, we will catch you!
Healthy fisheries depend on healthy fish stocks, which is why we are removing or bypassing barriers to river fish migration. We are currently building Whatstandwell fish pass. When completed fish will be able to migrate around a weir, opening up more of the River Derwent for spawning, feeding and refuge, improving stocks for anglers.
Fish stocking plays an important role in restoring fisheries. Our fisheries teams work hard to use fish stocks to help restore natural populations. Grayling, for example, are absent from the upper River Ecclesbourne because of a significant barrier to migration. Our local fisheries teams have are now working closely with Derbyshire County Angling Club to correct this. We have currently stocked 400 young grayling from our Calverton Fish Farm above the weir to help restore the population to its former glory.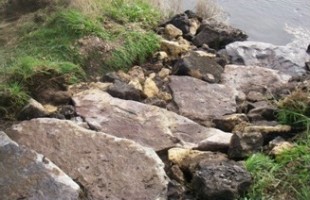 And it's not just the fish who are benefiting! Things are improving for anglers too! On the River Trent, we have built 30 long lasting, sturdy flat stone angling pegs on two club stretches. The Teme near Ludlow is benefiting, not only because fishing there is free, but from the three all-access fishing platforms and improved the paths for anglers that have been completed.
This crucial work would not be possible without our vital partnership working with local angling clubs and others to promote this great activity. Simon told me;
"Our local fisheries officer in Nottinghamshire provided the Police with angling equipment to use in events focusing on young anglers, truancy, rehabilitation and environmental education. The police work in partnership with a local angling club who kindly allow the use of one of their ponds."
Finally our Head of Fisheries, Sarah Chare who greatly supports all this work told me;
"I am always impressed with how much our fisheries teams are able to do, often working with partners, to provide a service to anglers. But, all this and more is only made possible because of the money we get from rod licence sales, so I'm also grateful for the continued support we get from a million anglers! Thank you!"
 If you're planning to go fishing make sure you have a valid rod licence, you can purchase one here, and remember under 12s can fish for free!
Paul Lidgett is a Senior Fisheries Adviser at our Head Office in Bristol.