I've always believed that fishing has the potential to help young people understand more about the environment, science and other core school subjects. That's why three years ago took the opportunity at Smithills School to give our students the chance to experience its many benefits.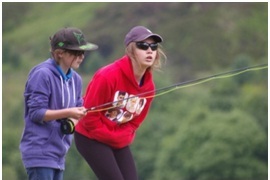 Fishing is a great opportunity for the students to interact with nature and eachother
The school was fortunate enough to have a fishery on the boundary of the school grounds, managed by Bolton Angling Association. Using money raised from rod licence sales, the Environment Agency installed a safe access path and fishing area. With seven members of staff becoming professionally qualified angling coaches through the Angling Trust, the school set up the Smithills Angling Club and was on its way to adding angling to the curriculum. The club meets weekly during term time and has a school-based angling team that competes with other local clubs at weekends.
Angling has become part of our learning outside the classroom and every pupil as the opportunity to take part. It promotes a connection with nature and the real world, away from TV, video games and social media. I have found that pupils to learn a lot about their environment, the water cycle, importance of water and weather patterns, and the effect humans can have on all of these.
Whilst being a fun and interactive activity angling is great at helping people overcome the challenges of everyday life. Stress is common place in today's society and children are just as badly affected by it as adults are, this is where the interaction with nature, each other and being in the fresh air can help break up the day.
In addition to the curriculum angling can tie in well with other subjects. Fishing can be linked to maths, giving pupils a practical understanding of measuring water depths and of buoyancy, using weights to balance floats. In Science they gain a good, hands-on, understanding of common plants and animals, and of photosynthesis.
Angling is a fantastically absorbing pastime that gets the students out in the fresh air, close to nature and provides a constant reward for a focused, patient approach to over coming lives challenges. I'm told that Smithills is the only school offering angling activities to its students, but with a little thought and planning there is no reason why other schools can't develop a similar programme of activities.
If you're planning to go fishing make sure you have a valid rod licence, you can purchase one here, and remember under 12 can fish for free!
Alec Cottrill is head teacher at Smithills School, Bolton. He is also a passionate angler.