This is a guest blog by Rob Hughes from the Angling Trust, and England carp angling team manager.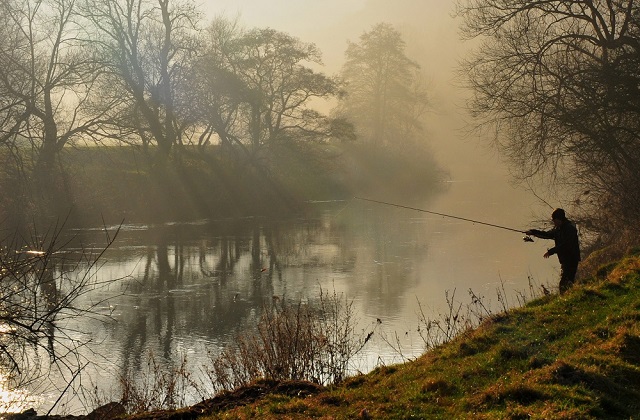 Some of the more mature readers will remember the hilarious sketch from Monty Python's famous film The Life Of Brian. Younger readers may not, but if ever there was a quote from a film that sometimes parallels the Environment Agency and its relationship with the rod licence buying public, it's this one.
The joke in the comedy sketch was that a group of people were grumbling about the Romans and what benefit they bought to the table. Eventually they decided between them that apart from sanitation, medicine, education, wine, public order, irrigation, roads, public health and the freshwater system, the Romans didn't really bring a lot.
Which is ironic really, as I sometimes hear a similar call in relation to the Environment Agency.
I must confess, like many others I may dare to say, to having previously been a little ambivalent towards the EA on occasion. On the whole I sympathise with authority. It can be a bit of a no win situation at times. People expect everything but always want to point a finger of blame if things go wrong, or probably more accurately, not as right as they would like.
My view of the EA is very different now to what it was some time ago. Maybe I have opened my eyes and ears a little more so I can see what is going on. Certainly I have opened my mind, and in fairness the EA are pretty effective at what they do.
I'll elaborate. A little over a year ago I embarked upon a drive to promote angling and increase participation. My role within the angling industry has always been to encourage participation within our sport in one way or another, be that through participation in events, heading off on holiday or simply through the use of fishing tackle. However, previously it had been for a company or business. This time it would effectively be working purely for the sport, through Sport England and The Angling Trust, our governing body... and that brought me into a lot more contact with authority than I had seen before.
Some would have you believe that the EA simply take money off the rod buying public and don't invest anything back into the sport but that's just not the case. In fact it's wildly inaccurate, and the EA do in fact pump a pot full of money back into fishing in a number of ways.
Which leads us to the million dollar question… quite literally!
So what exactly do The Environment Agency do for us?
Well for a start there is the Angling Improvement Fund. Did you know that the EA invest a significant amount of money directly back into individual angling projects that will improve both facilities and increase participation on a local scale? It's administered by The Angling Trust and is available to all organisations, clubs or syndicates, open access or private, and funding can be used for all manner of reasons… from improving car parking, putting in new pegs, habitat improvement, general fishery management etc. etc.
There's also Predator Protection. A sensitive issue that seems to have been a bit of an elephant in the room in the past, but one which is being confronted. Significant amounts of funding are now being made available by the EA for fisheries to fence their waters to protect against otter predation. Additionally there is a research project going on in relation to deterrents and also consultation with interested parties to look at how the problems of predation can be addressed in the future. Fisheries management advisors are paid for by the EA to give advice on cormorant predation and how to protect fisheries from fish eating birds, and there is a lot of work going on with regards to the impact of non native invasive species such as the signal crayfish. It is not a magic wand that will solve the problem overnight, but it is certainly working in the right direction.
There's the emotive issue of Poaching and Enforcement, which most anglers see as one of the Environment Agency's main roles. It's a regular comment that not enough licence checks are taking place, but did you know that 39% of the funds allocated to operations are spent on enforcement? The EA is working with the Angling Trust and the Voluntary Bailiff Service to increase a visible presence on the banks and also gather intelligence that will lead to further prosecutions and reduce the amount of rural crime that affects our fisheries. Another step in the right direction.
There's the Building Bridges project, which educates and also recruits anglers from migrant backgrounds about the laws relating to fishing in the UK and what can and can't be done.
We haven't yet touched on one of the most significant areas of EA involvement, that of Habitat Protection and Fish Welfare, the fact that the EA work closely with a number of clubs and organisations' to provide Fisheries Advice, responding to and dealing with Pollution and Fish Health issues, the fish Breeding and Re-Stocking programme that is in place, and a whole host of other matters that, until you actually sit down and think about how important and also how complicated these matters are, you don't necessarily think immediately of the EA.
In answer to both Monty Python, and also the EA sceptic, the answer in reality is "quite a lot actually".