The River Cut in Bracknell is a tributary of the mighty River Thames and is, typically for a heavily urbanised catchment, challenged in many ways. At least 3 sewage treatment works discharge along its course, and historically the channel was dredged and straightened at a time when this was considered necessary to avert flooding.
Add to this several large weirs which block fish migration, together with year-round run-off from roads and industrial estates, and the result is a river under pressure. But amazingly, wildlife still finds a way, and with a few simple improvements we can start to see it flourish, even in and around an urban centre like this.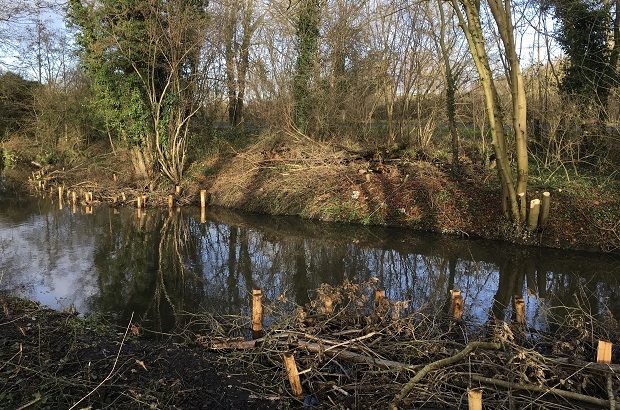 The River Cut project site is adjacent to a public recreation centre run by Bracknell Town Council, which already hosts a range of amenities including tennis, mini-golf and basketball. Working with a public land owner is really advantageous, especially when they're as supportive and insightful as our hosts here. The council have long recognised the value of angling and nature as both an amenity and a therapy to the rigours of urban life, for adults and children alike.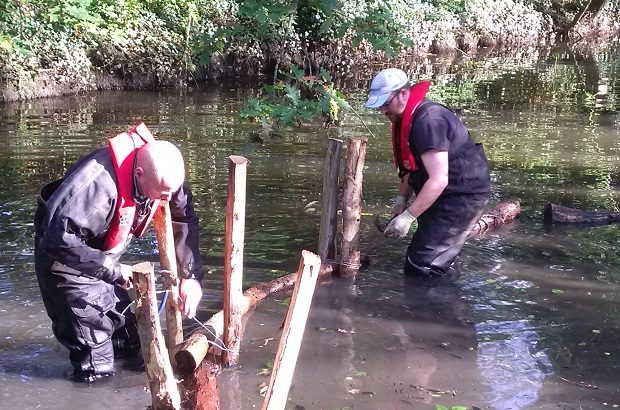 One of the reasons the council was able to attract funding from a diverse range of sources is the high percentage of junior anglers registered with the recently formed Braybrooke Community Nature and Fishing Club. The club started out on a local pond and has juniors sitting alongside adults on the committee. Now the aim is to introduce members to the challenge of fishing on a flowing river. A successful application to the Angling Trust resulted in a grant from its Angling Improvement Fund which has allowed 10 fishing platforms to be built, 2 of which will soon have wheelchair access.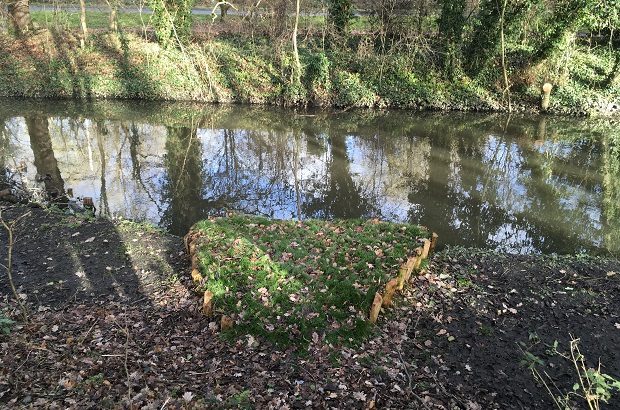 But the club didn't want to stop there. What if they could improve the river for fish and wildlife? Better habitat would bring more aquatic plants, insects, birds and of course fish. So next they applied to the Environment Agency's Fisheries Improvement Programme, which was set up for exactly this purpose. By matching the cash grant with labour, and keeping down costs by sourcing wood and brush locally, the partnership has started to transform this once neglected stream into a productive and accessible fishery for all.
As we thin out the tree canopy, light streams into the river and encourages aquatic plants to grow. Much of the river is over-wide and choked with silt, so by creating marginal berms (literally new bits of bank) with the harvested trees, we can make the river meander and increase the flow velocity in the channel. This in turn forces silt downstream, revealing clean gravel below.
Being sited on the edge of an urban centre brings inevitable challenges and this year the river has unfortunately been polluted on several occasions. But rather than being deterred, the partnership has taken this as a cue to engage the local public and business communities in an awareness campaign that is steadily gathering strength. Thames Water, which oversees the drainage network below Bracknell, has joined forces with the Environment Agency to investigate and send out a strong message to deter dumping of oil and chemicals into roadside drains.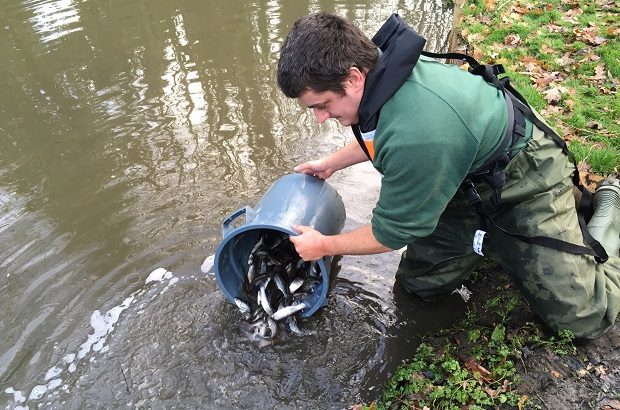 As the threat of pollution now looks to be receding, l decided it was safe to boost the river's native stock of fish from our national fish-rearing facility in Calverton. So on Thursday 14 December 2017, we introduced around 2,000 juvenile chub, roach and dace to help ensure a brighter future for this remarkable little river.