Following the recent rain in the south east the soil is wetter, many reservoirs have risen and groundwater replenishment has started.
This improvement is welcome because the autumn and the previous winter were dry in the south east of England. It is the winter and autumn months that are crucial for refilling the groundwater over the long term and ensuring water supplies are sufficient for a healthy environment and to keep up with demand for water from businesses, agriculture and households.
Despite the recent rain it is the longer term rainfall figures that are important.
October 2016 – April 2017 was the second driest Oct-Apr period on record in parts of Kent and Sussex. The driest Oct-Apr period on record for those areas was 1976. October 2017 was the driest since 1978 for nearly 20 hydrological areas across east and south east England.
Even though it has been wetter in the south east at the start of 2018 above average rainfall is still needed over the next two months. Rainfall in February and March will be key for refilling groundwater supplies. In the hydrological winter (October – March) there is more rain, soils are wet allowing water through to aquifers, there is less evaporation because of the cooler temperature and growing plants haven't started taking up water.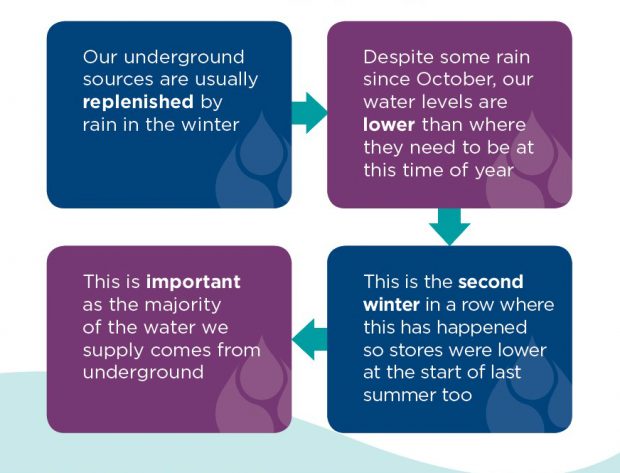 Source: SES Water
In December we explained that Winter rain was needed in the south east of England. At the start of 2018, our water experts told journalists said that above-average rainfall is needed in parts of the region over the next few months to replenish groundwater supplies for 2018. Our position on this potential challenge was set out in articles including in the Express: Drenched UK 'might still see a hosepipe ban' as reservoir in Kent is less than half full; Guardian: South east England at risk of water shortages this summer, officials warn; and i news Believe it or not you could be hit by a drought this summer.
Although the situation has improved since then, helped by January rain, it could still become an issue again in some local areas in the south east if there isn't enough rainfall over the next few months.
A lot has been happening behind the scenes.
Water companies have been advising their customers to use water wisely and considering action to preserve and enhance water supplies. Households served by Affinity Water, Southern Water or SES have received advice about preserving water and reducing their bills in the process.
We encourage people to follow advice from their water company about saving water to help ensure we all have enough water for our homes, to produce food, products and services, and to protect our valuable natural environment. Many water companies have been tweeting, sharing tips and even giving out free water saving devices – so worth checking what your water company is saying and offering.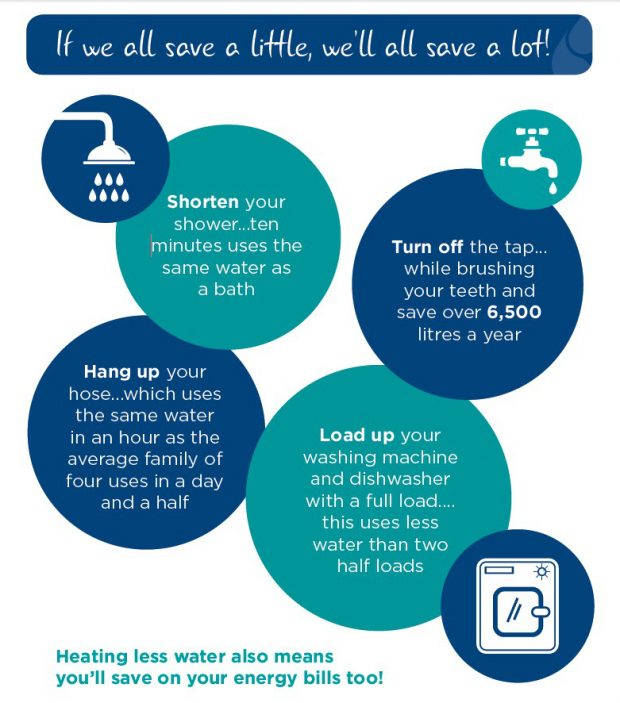 Source: SES Water
At the Environment Agency our regulatory role involves scrutinising water company Drought Plans to ensure they are robust and fit for purpose. And we work with them to ensure they are carrying out the preparatory work set out in their plan, including drought permits as necessary like the one we issued to Southern Water for Bewl reservoir. We visit abstractors to check they are complying with the conditions of their licences and we offer practical advice to businesses and farmers, such as checking equipment for faults and leaks, how to use water more efficiently and by making them aware of water resource issues in their areas. We have also increased our monitoring of river flows, groundwaters and the local ecology to assess the impact of prolonged dry weather on the environment and wildlife.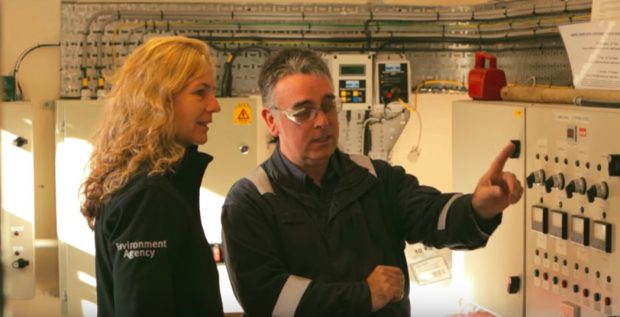 Environment Agency Hydrometry and Telemetry expert visiting a water company
Our Chief Executive, Sir James Bevan, has continued to meet with a wide range partners to be clear about the challenge, what each organisation can do and the expectations we have of the water sector.
We are working with the National Farmers Union (NFU) and advising farmers and growers who rely on directly abstracted water, to check the conditions of their licences, and the flexibility and resilience of their water supplies now. This includes considering the effect that a dry winter could have on the ability to refill winter storage reservoirs.
We have had some rain but more is needed
Environment Agency officers and hydrologists check river flows each week and publish them online here. Levels fluctuate each week and have increased following recent winter rain. However we're still preparing for possible challenges this year if there isn't enough rain for the demands we expect. We will have to carefully balance the demand for water from agriculture, businesses, water companies serving people living in the south east, and water needed in the environment to support healthy rivers and ecology.
So everyone can help to reduce pressure on the environment and the likelihood or extent of water supply pressures by valuing water and taking simple steps to reduce water use.
Find out more from:
SES Water: http://www.waterplc.com/pages/news/rainfall/
Southern Water: https://www.southernwater.co.uk/savewater
Affinity Water: www.affinitywater.co.uk/savewater