All river flows vary naturally over the year, especially when we are in the summer months with some streams and smaller river tributaries drying up entirely. This is even more the case during long term dry weather, such as we experienced last summer and over the dry autumn, which reduces groundwater levels.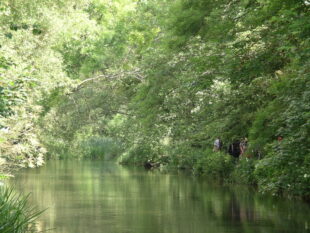 Chalk streams are particularly vulnerable to drier weather. Only 200 chalk streams are known globally, 85% of which are found in the UK in southern and eastern England. These streams emerge from the chalk aquifer, so the very pure water is rich in minerals and remains at a fairly constant temperature year-round. This good water quality supports many invertebrate and fish species making them an important haven for wildlife. They are highly valued culturally and provide valuable recreational fisheries.
The Environment Agency is taking action to protect chalk streams by reducing the amount of water abstracted. Water is taken from rivers to satisfy human demand for it, primarily by the water sector, the energy sector, and use by industry and for use on agricultural land. Any of these abstractions over 20 cubic metres per day require an abstraction licence from the Environment Agency. We have already changed 71 abstraction licences relating to 15 chalk streams across England. These return 16 million cubic metres per year of water back to chalk streams and remove the risk of another 8 million cubic metres per year being taken.  This is equivalent to the average annual domestic water use of approximately 200,000 people, the approximate population of Oxford or Preston. We will continue to review conditions on abstraction licences where there has been a negative impact on the environment and where they may be at risk in the foreseeable future.
We are also working to maintain the water quality of these chalk streams. Chalk streams are particularly receptive to nutrient enrichment from phosphates and nitrates. Since 2006, working with Natural England, Catchment Sensitive Farming has offered a combination of grants and advice to help reduce pollution from farms within 68 priority catchments, including chalk streams, across the country. This work is in conjunction with a programme of physical habitat restoration underway on our rivers – over 1,700km  of river habitat, including many kilometres of chalk stream, were enhanced in 2018/19.
There is of course much more work to do, especially in the face of a changing climate. Everyone has a role to play, particularly in reducing water consumption. That is why plans to introduce a personal water consumption target have been published by the Government today
The proposals form part of a public consultation that examines how water can be saved on a personal level, and how industry can take a leading role in supporting customers to use less. On average, a person in England currently uses 141 litres of water per day. Our tap water comes direct from the ground, and our lakes and rivers where it supports wildlife. It is only by reducing the amount of water we all use that we can reduce pressure on the environment and avoid future water shortages