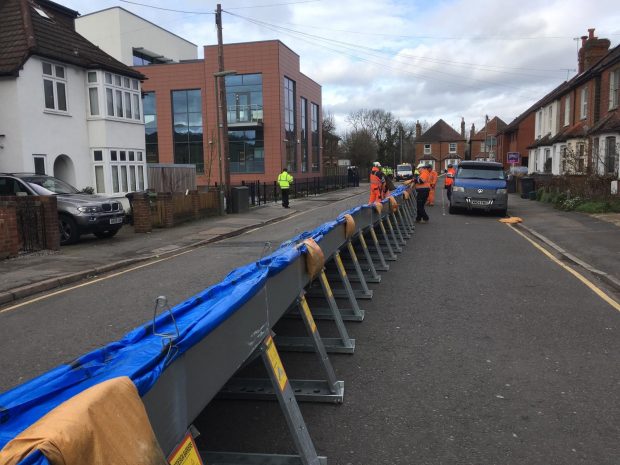 by Tina Donaldson, Environment Agency Flood Risk Advisor in the Thames Area
While permanent flood defences remain central to our strategy to reduce flood risk across England, temporary flood barriers have become a frequent sight on news bulletins, and have a huge part to play as we work to keep communities safe during extreme weather, holding back swollen rivers from people's homes.
What are temporary flood barriers?
Temporary flood barriers consist of portable metal frames with a waterproof cover, designed to be quickly set up in pre-planned locations which do not have permanent defences.
When flooding is expected, the barriers are quickly put up. When the risk has passed, the barriers are taken down, checked over and put back into storage, ready to be used again.
Across England, we have 40,000 metres of temporary flood barriers ready to deploy. Our barriers can be delivered anywhere in the country within 12 hours, and will then be deployed at sites by our operations personnel.
Why and where do we use temporary flood barriers?
The Environment Agency may use temporary flood barriers in places where it isn't possible or practical to build a permanent flood defence (or where one hasn't yet been built).
For example, we often use temporary flood barriers in towns and villages whose economies and communities depend on access to the river (such as riverfront bars and restaurants) where permanent defences would prove too disruptive.
We have detailed deployment plans in place for more than 100 high-risk locations across England. While having these plans in place makes it quicker and easier to deploy the barriers, we may still use barriers in an area where it is technically and physically viable to deploy them and they will prevent flooding.
In addition to temporary flood barriers, we also use demountable defences in some locations. These defences consist of permanent structural foundations, with barriers deployed when there is a risk of flooding. They are used to reduce the visual impact of permanent defences, for example in Bewdley and Shrewsbury on the River Severn, where demountable defences maintain the open vista of the river and open access through the old towns.
Temporary flood barriers in Thames Area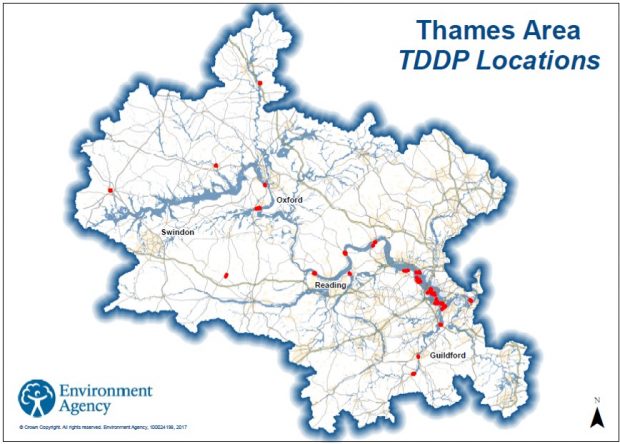 In Thames Area, encompassing the Thames Valley and Surrey, we have identified over 20 locations where a temporary barrier could form part of our response to flooding.
To do this, we assessed the history of flooding in each location, the depth the flood waters are likely to reach, and the time it takes the river to respond to rainfall. We ruled out the use of temporary flood barriers where it wouldn't be safe for the people putting them up and where a barrier would increase flood risk to neighbouring communities.
My work has been to share information with communities in these locations about our plans for a temporary barrier and how it might affect them. I have worked with resident flood groups and community groups, parish councils, local council officers and emergency planners. I listen to their feedback and, if technically feasible, make adjustments to the deployment plan.
We've also carried out trial runs with our emergency response partners, so that everyone involved in putting up temporary barriers knows what to do.
Temporary barriers can form part of the toolkit we use to reduce the risk of flooding from rivers, along with warning and informing the public about flood risk.
To find out whether you live or work in an area at risk of flooding, and what to do if you receive a flood warning, visit https://www.gov.uk/check-flood-risk