Gavin Thomson, a Nuclear Waste Assessor at the Environment Agency, discusses the EA's role in regulating radioactive waste and how they protect the environment.
I'm a waste assessor at the Environment Agency and have worked on radioactive waste safety assessments for 25 years. Finding a safe solution for the long-term management of the most hazardous radioactive waste is a big challenge. The Environment Agency has an important part to play in regulating to protect the environment and supporting community involvement.
Geological disposal is government policy for the long-term management of the UK's most hazardous radioactive wastes. This means permanently placing radioactive waste in a specially designed facility between 200 metres and 1,000 metres underground.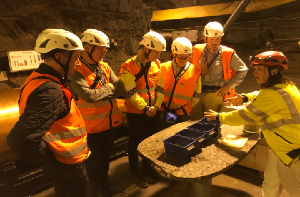 The design of the facility and its contents, combined with the properties of the surrounding rock, provide multiple barriers that contain the radioactivity and prevent harmful quantities from reaching the human environment. The depth of the facility protects the waste from effects at the surface, such as future climate change.
No geological disposal facility (GDF) exists in the UK. The process to find a site is consent-based and adopts a partnership approach between local communities and the developer, Radioactive Waste Management Limited (RWM). We are responsible for making sure that any geological disposal facility in England meets the required high standards for protecting people and the environment when it is being developed and operated and after it has closed. We're working closely with our colleagues at the Office for Nuclear Regulation (ONR) and other regulatory bodies. A GDF won't be constructed or operated without approval from the regulators.
We won't be involved in decisions to select a potential site for a GDF. Our regulatory role will start after a site (or sites) has been selected for site investigation and will continue from then onwards.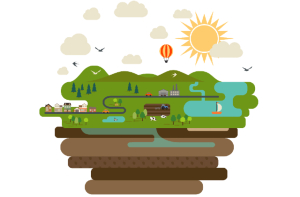 Copeland GDF Working Group formed in November to begin discussions and public engagement on the potential to locate an area for a GDF in Copeland, west Cumbria. More working groups may be established in other places.
We are ready to support working groups and communities with information about our role in regulating a GDF. Watch our animation and read more on our webpage.  When we're able to meet 'in person' again we have displays and information flyers we could use too. We're looking forward to talking about our work and answering questions.
You can also find out about our ongoing reviews of RWM's work in our latest annual report. This year we've highlighted that RWM continues to make progress in a number of areas, including improving its approach to modelling the impacts of non-radiological contaminants. However, further work is also required including;
showing how and when RWM will establish itself as an organisation suitable to hold an environmental permit.
presenting an integrated work plan and a targeted and prioritised research programme.
I'm expecting a busy 2021 on this project. If you have any questions you can comment below or email nuclear@environment-agency.gov.uk