Fiona Tovey, Project Manager in the EA's Plastics & Sustainability Team, explains how farmers can help to tackle plastic pollution and illegal waste exports
Since Blue Planet II there has been increasing awareness of the amount of plastic we use and it littering our land, rivers and seas, but I doubt many people have thought about the plastics that are used on farms being illegally exported to countries all over the world. I certainly hadn't until I joined the Environment Agency's newly established Plastics and Sustainability team in 2018, inspiring positive behaviour change within the agricultural sector.
Whilst the percentage of plastic waste is small compared with household and other business waste, it matters because farms are generally in rural locations and close to watercourses. With 71% of land in the UK dedicated to agriculture, and reports to the Environment Agency of poor compliance, illegal burning and burying of waste, it is clear to us, that agricultural plastics are a concern. The plastics that are used are often difficult to recycle because of the different types (everything from hard containers to soft stretchy films) and challenging levels of contamination from things like soil to hazardous chemicals.
My colleagues in our Illegal Waste Exports team have noticed a rise in the amount of contaminated agricultural plastic waste such as silage wrap being illegally exported from England. Unless it is free from contamination, export of these waste types requires permission from us and overseas authorities. Unfortunately some try to export contaminated waste without permission which is illegal. Those found responsible can receive tough penalties such as an unlimited fine and/or a two year prison sentence.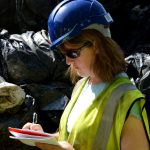 I know the majority of farmers care deeply about the environment and want to do the right thing. That is why colleagues right across the EA are working together to help facilitate new habits and strengthen existing ones by working with, and providing tools for, the agricultural sector including:
Advising farmers and agricultural businesses of the need to fulfil duty of care requirements to ensure their waste is going to the right place.
Working with farm assurance schemes in reviewing standards.
Sharing our evidence of environmental impacts from agricultural plastics with the sector.
Running workshops for farm advisors in other organisations such as The Rivers Trust and Wildlife Trusts, as well as for the Environment Agency's own Officers.
Inspiring the next generation to reduce, reuse and implement good waste management practices. We have created teaching packs for agricultural colleges and are working with the National Federation of Young Farmers Clubs to design competitions and debates.
Developing clear messaging in a Key Actions for Farmers document focussing on resource efficiency and waste to help farmers meet regulatory requirements. It includes links to tools that will help farmers, for example, the EA public register to check a waste carrier is registered: https://environment.data.gov.uk/public-register/view/search-waste-carriers-brokers
Working with Westcountry Rivers Trust to create a 2 page advice sheet specifically on good waste management for agricultural plastics
We have been overwhelmed with the positive responses from people wanting to work with us on this subject. From embedding messages within their own guidance to writing case studies about poor waste management to raise awareness of the issues and good management stories to inspire others to do the right thing.  It is fantastic to see so many people coming together to protect our natural world.
We all have a responsibility to ensure that the waste we produce is managed responsibly. Whilst the challenges are wide ranging, we all have a duty to make plastic pollution a thing of the past.
What can you do to reduce, reuse or recycle the plastics that you use?