The relaxing sport of fishing has been creating a wave of interest throughout 2020. Now, following the success of the Take a Friend Fishing (TAFF) initiative over the summer which saw hundreds of anglers sign up, the Environment Agency, Angling Trust and Angling Trades Association have teamed up and extended the campaign to reel in even more people.
Dr Graeme Storey, Environment Agency Fisheries Manager, was won over at the age of 12 when a friend took him out to the riverbank.
Getting hooked on fishing
Having always been fascinated by fish it wasn't a question of if, but when, I would give fishing a go.  Back in my childhood the world was a different place, no mobile phones or social media and basic computer games were only just finding their way into our homes.  I had time, I had the inclination, but I didn't know how to start fishing or where I could go.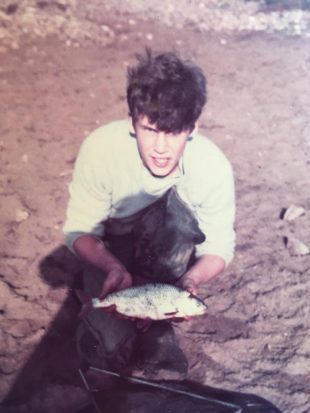 None of my family fished nor their friends but Chris, a friend from school, did.  We hatched a plan to visit our local canal.  Armed with a 6ft glass fibre rod/reel set up and not much more, we were dropped off at the car park and walked the short distance to our chosen spot.  Chris showed me how to set up a simple float rig and plumb the depth to ensure the bait was in the right place.  A few loose offerings were thrown into the canal, closely followed by the float.  It didn't take long for the first bite, that electric feeling as the float slowly dipped under the surface.  On the end of my line was a gudgeon, one of the most obliging fish for a beginner and one of the most beautiful….I was hooked.
From that point on Chris and I continued to fish together, venturing further afield, tackling different waters and chasing different species.  Looking back, I remember nothing but fun and friendship.  This continued until our time at school ended and we went our separate ways.  I continue to fish to this day.
As well as the tangible benefits from spending quality time in the environment, more often than not I go fishing with friends.  For me, there is real value in this shared experience, driven by the same passion and fuelled by laughter and challenge in equal measure.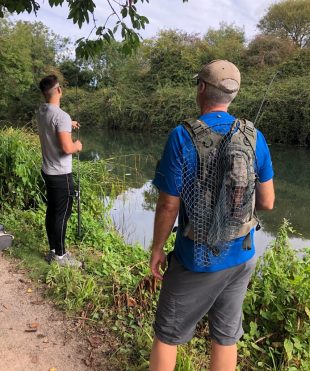 The Take a Friend Fishing campaign provides an excellent opportunity to introduce more people to everything fishing has to offer.  It's something any angler can do, including me.
Happily, I was able to introduce someone to fishing this summer and hope to be able to do the same during this campaign.  The simple act of taking someone fishing is perhaps the best introduction there is to this rewarding pastime.
I'm sure I never thanked Chris at the time, so I will now.
How to get involved    
At this time of year there are still plenty of fisheries, lakes, stretches or river and canal open all over the country that are perfect to visit even in colder weather, and a catch-up with a friend can easily be combined with a quick 'Take a Friend Fishing trip'.
Take a Friend Fishing runs from 19th December to 10th January. That means there are four weekends where fishing licence holders will be able to register for a free one-day Environment Agency fishing licence worth up to £12 to take someone they know fishing.
And, as it falls just in time for the Christmas holidays, it could make the perfect gift experience for a friend or loved one.
To take advantage of this offer, simply visit www.takeafriendfishing.co.uk and provide some simple contact details including your fishing licence number and the date of the fishing trip. This will notify your friend who, after checking their details are correct, will be able to go fishing with you, on the selected day using their own free one-day fishing licence.
To support Take a Friend Fishing the Angling Trust's Get Fishing Team have created a list of fishing venues that are ideal to take a newcomer or anybody who wants to get back into angling after a break from the sport - www.getfishing.org.uk/location.  
Follow the rules for your local area:
Find out what tier your area is in and what the local restrictions are: https://www.gov.uk/find-coronavirus-local-restrictions
Follow guidance on Christmas and New Year activities:
Guidance for the Christmas period about meeting friends and family, travel and New Year: https://www.gov.uk/guidance/guidance-for-the-christmas-period