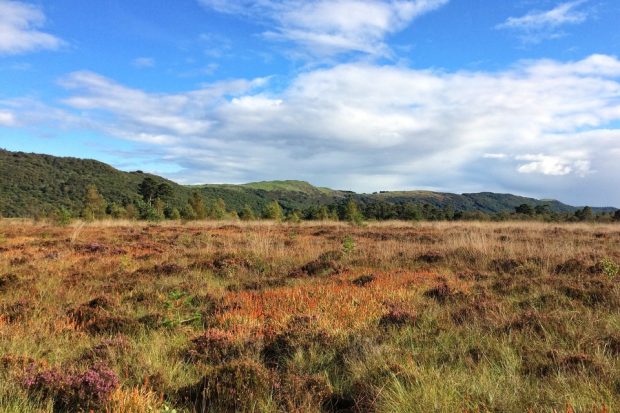 The Environment Agency has published research examining various carbon offsetting approaches and the challenges and opportunities they present. Dr Lydia Burgess-Gamble, Principal Scientist with the Environment Agency reviews the research, describing it as the Environment Agency's first step in developing its carbon offsetting strategy – and highlights how it could help other organisations set theirs, too.
The Environment Agency aims to achieve net zero carbon emissions by 2030 [1]. This is set out in our business plan (EA2025) [2].
Net zero means that we'll be taking as much carbon out of the atmosphere as we're emitting, or more. By doing this we will have reduced our contribution to climate change and will be supporting the move to a net-zero nation by 2050 in line with government's commitments.
Scale of the challenge
We know how ambitious this is. Each year we emit 270,000 tonnes of carbon dioxide, most of it from our construction of flood risk management infrastructure, fleet, commuting and use of IT. So our first step to reach net zero is to focus our greatest effort on reducing our emissions as much as possible, and to this end we're developing a road map and undertaking extensive research to decarbonise our organisation and the work we do.
We won't stop doing our vital work to protect people from the impacts of flooding and coastal erosion – we will just have to do it differently.
Once we have reduced our emissions as much as possible we will then need to remove (offset) any remaining carbon emissions.
What is carbon offsetting?
'Offsetting' involves permanently removing greenhouse gas emissions from the atmosphere, usually through creating or restoring habitats which absorb emissions, or through reducing the rate of emissions from degraded landscapes.
The Environment Agency will initially need to offset its residual emissions to achieve net zero carbon by 2030. We want to make sure we get it right – so that our offsetting is strategic, accountable and brings the most benefits for society and the environment.
The evidence base
Offsetting is a totally new activity to us. That's why we've undertaken a research project [3] to gather evidence to help shape our offsetting strategy. And we're making it publicly-available so others can learn from it too.
This research project has reviewed the science behind carbon offsetting and looked at a wide range of different offsetting approaches which could be used in the UK. The review focussed mainly on nature-based solutions, setting out their potential to absorb carbon emissions.
More science is needed
We found that most habitats do have the potential to store carbon. However, there has not been a consistent level of scientific evidence collated across all habitat types.
For example, peat and woodland have a strong evidence base as a result of a significant body of previous research and this has enabled the development of two accredited carbon codes [4, 5]
Whereas, other habitats and land management practices which we would like to use for offsetting purposes have had much less evidence collated to establish their carbon storage potential. This does not mean they are not valid from a carbon offsetting perspective, they will absorb carbon, but there has been less evidence collected and published in peer reviewed journals. However, our past research has also shown that nature-based solutions provide a wide range of environmental benefits [6].
Expanding the number of accredited carbon codes
We do need to urgently collect more scientific evidence across a larger number of habitat types and land management activities so we can better understand their ability to absorb carbon [7].
This evidence can then in turn be used to develop accredited carbon codes. This will mean that when people pay into these codes to offset their emissions they can be confident their money is being used to create or restore habitats which play a vital role in addressing the climate and biodiversity crises.
We are playing our part in the development of new codes. We are undertaking a study with consultants to see if a salt marsh code developed for the USA can be adapted for use in the UK. As part of this work we will collect sediment data from our own salt marsh sites to understand how much carbon they have stored.
What can we do now?
The Environment Agency realises that getting to net zero is going to be challenging, but we all need to work together and share our learning as we start to understand the best ways to reduce and offset our emissions.
We've engaged more than 180 different organisations through this project, learning from their good practice and seeking opportunities to work in partnership. We are sharing our evidence base with you, so that we can all collectively play a role in expanding scientific knowledge for the habitats and land management practices which we are passionate about. This is our first step in developing our offsetting strategy, but we also hope it provides a starting point for others too.
References
[1] Environment Agency sets net zero emissions aim
[2] Environment Agency: EA2025 creating a better place
[3] Beechener, G. and others, 2021. Achieving net zero – a review of the evidence behind potential carbon offsetting approaches. Environment Agency, Horizon House, Bristol.
[4] UK woodland carbon code
[5] Introduction to the peatland carbon code
[6] Burgess-Gamble, L. and other 2017. Working with Natural Processes - Evidence Directory. Environment Agency, Horizon House, Bristol.
[7] Gregg and others, 2021. Carbon storage and sequestration by habitat: a review of the evidence (second edition) Natural England Research Report NERR094. Natural England, York.