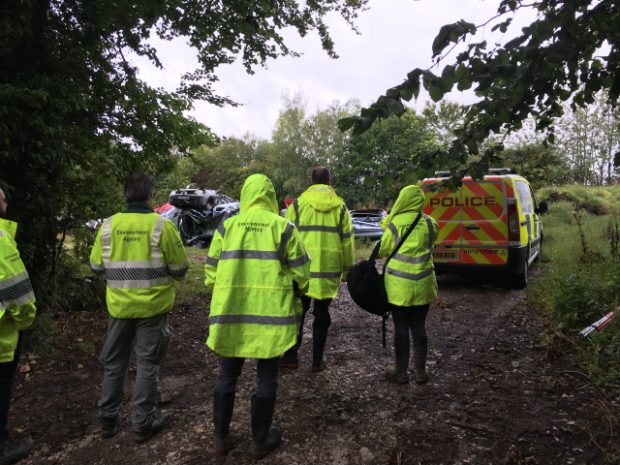 At the end of the year, Malcolm Lythgo, Head of Waste Regulation at the Environment Agency, reflects back on the waste enforcement work of the Agency through 2020 and the new partnerships it has made that strengthen its regulatory power.
Waste enforcement continues despite the pandemic
2020 has been a year like no other. We've all had to adapt our working and home lives in order to stay safe. At the Environment Agency, we've learned a lot about how we can still proactively target waste criminals, even in the face of repeated lockdowns and different tier restrictions across England. As a result we've refined our operations to be even more efficient and modern since Coronavirus. A positive outcome in the face of testing times.
Intelligence is King
Knowledge is definitely power. The more information we gather, the more effective we become at unravelling the operations of waste criminals. For many years we've been intelligence led, but through 2020 we've been forging ahead with new partners that increase our ability to be even more efficient and effective.
We now work with Nominet who are able to stop illegal operators using the internet to secure business. This up-stream intervention is a brilliant example of how the Environment Agency is getting better all the time at finding ways to stop waste criminals before they cause significant impact to the environment and communities. It is more cost-effective for us to tackle waste crime in this way too, rather than waiting for crimes to be committed and damage to be done, leading to lengthy and expensive court proceedings and unpleasant clean-up jobs, the cost of which often falls to an unsuspecting landowner.
We also joined the Waste Compliance Taskforce (WACT); a collaborative cross-sector group working to improve awareness of and compliance with waste regulations and to increase resilience to waste crime. This group is made up of other UK regulators and waste industry members and associations. By working together with all our shared insight and knowledge, we can help make the waste industry more resilient to the impacts of criminals dealing in waste.
The 4P model
We are learning all the time, especially from fellow law enforcement agencies like the Police. We are excited to put the 4P model of law enforcement at the heart of our enforcement strategy. It puts the focus on identifying and addressing potential and emerging risks:
Prepare our approach based on evidence using intelligence and information analysis
Prevent and disrupt offending and criminal activity
Protect the environment and legitimate business from harm
Pursue those who offend deliberately or with reckless disregard.
As we become an even more robust and modern regulator, those intending to commit waste crimes will face our intervention much faster than they previously expected. This is good news for the environment and the legitimate waste industry who feel the loss of business to unscrupulous waste criminals.
Getting results
You might have read my blog in July where I shared some of the brilliant work of our enforcement teams across England, since the onset of Coronavirus. Our teams continue to be proactive in targeting and stopping criminals dealing in waste, often working in partnership with other agencies.
In September we joined Lincolnshire Police on a raid at a farm in Skendleby. The Police had intelligence to suggest that a drugs operation was taking place in an underground bunker at the farm and we had intelligence that the same site was also being used to store waste illegally. Cannabis plants with a street value of £500,000 were discovered along with 300 tonnes of waste, 60 part dismantled vehicles used asbestos roofing materials and evidence of areas being used to burn waste illegally. This case clearly shows those dealing in illegal waste are often involved in other types of serious crime. Working with the Police, we get results and so do they. This site is now shut down and three men were arrested. The investigation continues.
We continue to work hard to turn the tide on the illegal shipment of waste and had a real focus on this issue through the autumn. In September we engaged with road hauliers and their trade associations to help them understand the checks they must carry out to ensure they are not transporting waste that is illegal to export. Simple guidance we shared with drivers will help them take steps to keep themselves safe from waste criminals and know how to report suspected illegal waste activity.
In October we saw the return of 21 containers of illegally exported waste come back from Sri Lanka. We are working to find those responsible and when we do, they could be facing up to two years in prison, an unlimited fine and the recovery of money and assets gained through the course of their criminal activity.
In November we urged agricultural businesses, farmers and waste companies to check their waste management processes are robust, as our teams were increasingly intercepting contaminated agricultural plastic waste at shipping ports bound for illegal export. Educating those with difficult wastes to manage helps to ensure it goes to the right place first time. My colleague, Fiona Tovey explained more about this issue in her blog.
While 2020 has presented its challenges to us all, I am looking forward to 2021 with optimism that the Environment Agency will continue to go from strength to strength working tirelessly in partnership with others to reduce the impact of waste crimes on our environment and communities.
Don't forget, you can help. If you see or suspect illegal waste activities, report it anonymously to Crimestopppers online or by calling: 0800 555 111.